The Principles of Beautiful Web Design, 2nd Edition
By
Jason Beaird
The design book for non-designers.
Resources
Design is a skill that can be learned
Many non-designers believe that they're unable to create visually pleasing websites because they didn't go to art school, or that they lack creative flair.
Thankfully, this isn't true.
There are certain design maxims and techniques anyone can learn and apply to ensure that their website is not only functional, but sexy too. No art school required.
Whether you want to improve the look of an ordinary website or learn a new set of skills, The Principles of Beautiful Web Design, Second Edition will teach you good design fundamentals, ensuring that you avoid making any rookie mistakes.
From paper to screen
The second edition of The Principles of Beautiful Web Design has been expanded and revised, and is illustrated with full-color examples. It's an easy-to-follow guide that will lead you through the process of creating great designs from start to finish.
You'll learn how to:
apply color effectively and develop killer color schemes
construct practical layout foundations using whitespace and grids
use textures – point, line, shape, volume, depth, and pattern
master the art of typography to make dull websites dazzle
choose, edit, and position imagery effectively
design confidently for mobile devices
see into the future of web fonts, including @font-face
Grab your copy now and see why this book has been so successful in helping readers like you create stunning websites.
Who should read this book?
If you'e squeamish about choosing colors, feel uninspired by a blank browser window, or get lost trying to choose the right font, this book is for you. I take a methodical approach to presenting traditional graphic design theory as it applies to today's website development industry. While the content is directed towards web programmers and developers, it provides a design primer and relevant examples that will benefit readers at any level.
Meet the author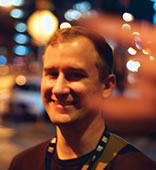 Jason Beaird is a designer and front-end developer with over ten years of experience working on a wide range of award-winning web projects. With a background in graphic design and a passion for web standards, he's always looking for accessible ways to make the Web a more beautiful place. When he's not pushing pixels in Photoshop or tinkering with markup, Jason loves sharing his passion for the Web with others.
Customer reviews
"Very helpful book. Technically I know how to build sites and do programming, but unfortunately I'm not very gifted in the artistic department. This book goes some way to alleviate this."
"I was a big fan of the first edition, which was one of the first books on web design that I ever held in my hands. Glad to see that the same principles apply and have been updated."
"For a newbie, it's all too easy to get bogged down in the technologies of web design. This book pulls you back out of the mire, and offers a fantastic overview of the big picture again: what's expected, possible and desirable in a modern website."
If you feel that "The Principles of Beautiful Web Design, 2nd Edition" falls short of being everything you wanted, we'd like you to have your money back.
Simply contact us within 30 days of purchasing your book from SitePoint, and we'll promptly send a refund. We know you'll be thrilled with the quality of our books!