The visual artist and designer, Shepard Fairey, who become well known for his iconic poster of US President Barack Obama, has admitted he lied about the photograph he used as a "reference" on the image. The poster was seen throughout the world during the presidential election last year and shows Obama looking upwards with the words "Hope" emblazoned along the bottom.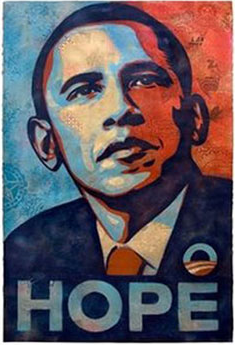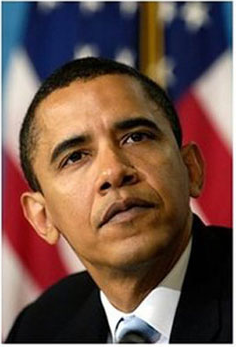 Hope poster by Shepard Fairey on the left, the photograph owned by A.P. on the right.
The Associated Press sought credit and compensation from Fairey earlier this year, claiming that the poster was based on one of its photographs and was used without permission. Fairey then attempted to sue the A.P. claiming fair-use exceptions to copyright law, then the A.P. filed a countersuit based on "misappropriation" of the original image.
On Friday night the A.P. released a statement saying that Fairey's lawyers have acknowledged that he lied about the photograph he based the poster on, as well as fabricating evidence to make it look like he had used another image as a reference.
Fairey's lies about which photo was the source image were discovered after the AP had spent months asking Fairey's counsel for documents regarding the creation of the posters, including copies of any source images that Fairey used, Fairey's counsel has now admitted that Fairey tried to destroy documents that would have revealed which image he actually used.
Fairey created fake documents in a bid to hide which image he used and created fake stencils of the "Progress" and "Hope" posters.
The AP intends to vigorously pursue its countersuit alleging that Fairey willfully infringed the AP's copyright in the close-up photo of then-Sen. Obama by using it without permission to create the Hope and Progress posters and related products, including T-shirts and sweatshirts that have led to substantial revenue.
Not The First Time
Fairey has been criticized in the past for using other's artwork in his own without providing credit for the work. In 1993 Titan Sports, Inc. (now World Wrestling Entertainment, Inc.) threatened to sue Fairey for violating their trademarked name, Andre the Giant, when he used it on one of his artworks, "Andre The Giant Has A Posse." Fairey changed the work, adding the word "OBEY."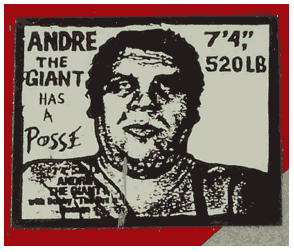 The irony is that Fairey has threatened to sue other artists who have used his technique of "referencing" images. Baxter Orr, a graphic designer from Texas created a piece of work featuring the Obey Giant face covered by a SARS mask which he started to sell through his own website. He received a cease-and-desist order from Fairey's lawyers alleging it violates Fairey's trademark. Fairey called the designer a "parasite" and a "bottom feeder."
In relation to the A.P. case, Shepard Fairey also released a statement on Friday:
On October 9, 2009, my lawyers sent a letter to the AP and to the photographer Mannie Garcia, through their lawyers, notifying them that I intend to amend my court pleadings. Throughout the case, there has been a question as to which Mannie Garcia photo I used as a reference to design the HOPE image. The AP claimed it was one photo, and I claimed it was another. The new filings state for the record that the AP is correct about which photo I used as a reference and that I was mistaken. While I initially believed that the photo I referenced was a different one, I discovered early on in the case that I was wrong. In an attempt to conceal my mistake I submitted false images and deleted other images. I sincerely apologize for my lapse in judgment and I take full responsibility for my actions which were mine alone. I am taking every step to correct the information and I regret I did not come forward sooner.
The lesson here, apart from not lying and destroying evidence, is for designers to be very careful with the images they're using and take the time to learn about copyright and fair use. What's fair use? Here's a useful guide for using the graphic artwork of others.
Jennifer Farley
Jennifer Farley is a designer, illustrator and design instructor based in Ireland. She writes about design and illustration on her blog at Laughing Lion Design.