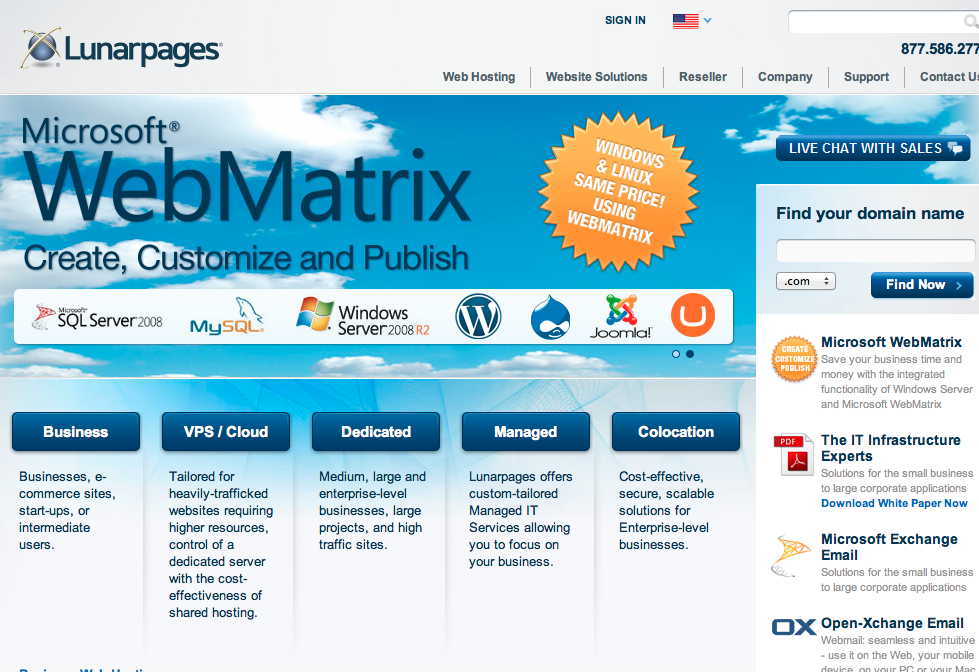 | Plans | Price Per Month |
| --- | --- |
| Starter Hosting | from $3.95/month |
| Basic Hosting | $4.95/month |
| Business Hosting | $19.95/month |
| Virtual Private Server | $44.95/month for Linux |
| Dedicated Server | $109/month |
| Features | Specifications |
| --- | --- |
| Min disk space allowed | 5GB |
| Min Bandwidth Allowed | 50GB |
| Addon domains | No. |
| Free Domain | no |
| Free site builder | no |
| CGI/BIG Access | yes |
| SSI Access | yes |
| FTP Access | yes |
| HTTPS Support | yes |
Website: http://www.lunarpages.com
Disclosure: We're a professional publisher and we receive compensation from the companies whose products we review. We tested and reviewed the hosting described here. We're independently owned and the opinions expressed here are our own.
Lunarpages is a California-based hosting company with data centers and satellite locations all over the United States. They've got over 150,000 customers and more than a decade of experience to their name.
Lunarpages has more features, products and services than nearly any other web host. They could potentially cover a company's entire list of technology needs, including hosting, design, development, email, branding and identity services. Competing web hosts don't want to "get their hands dirty" with this multitude of services, but Lunarpages doesn't just "mind their own business"; they mind yours, and they offer a reliable partnership and versatile resources to their customers.
Lunarpages Highlights
Legitimate Awards – Lots of hosting providers show off dozens of awards, many of which are given away all too easily. In some cases, unscrupulous websites exist solely to give out such awards, and they do it without much scrutiny. Well, Lunarpages doesn't play the same silly game; they only show legitimate awards from well-known establishments like ICANN, The Better Business Bureau, Hewlett-Packard, Cisco and Microsoft. Those kinds of credentials mean a lot more than shiny, pixelated badges from less reputable organizations.
Massive Product Variety – For tech-savvy customers who want a large variety of choices, Lunarpages is perfect. Their hosting products range in price (and power) from $4 to hundreds per month. They can also handle your email, web design and even some of your business development needs at additional costs. Lunarpages could be a great ally to have in the business landscape; a customer could use their existing relationship with Lunarpages to cover all sorts of technology needs.
Consultancies – Most hosting companies steer clear of consulting, but Lunarpages jumps in with both feet. They offer web design, custom scripting, search engine marketing, and even logo design, identity and branding. Third-party consultants can be costly, time-consuming and often better salesman than servicemen. But, if you hire Lunarpages, you're working with an existing relationship, saving you the trouble of finding the worthy consultants among the pretenders. Plus, Lunarpages will be eager to keep an existing customer happy, especially if that customer is already paying them for several other services.
Free Hosting for US Public Schools – If your web-based project is for the US public school system, do not overlook Lunarpages. They offer hosting for these kinds of educational websites at no cost whatsoever. If you're an employee or consultant at a public school, you'll surely get some pats on the back and praise for diligently finding the perfect hosting provider.
Lunarpages Weaknesses
Too Many Products? – Lunarpages' massive product variety is good for a number of reasons, but it does make it difficult to choose between dozens of hosting options, email options and consultancies. Less tech-savvy customers may not even know the subtle differences between these products and might flee to a host that does a little more "hand-holding."
Low-End Hosting Plan Has Limitations – Lunarpages' "Starter Web Hosting" has a limit of 5GB of disk space and 50GB of monthly bandwidth. Competing hosts offer similarly-priced products with no such limitations. While it makes sense that growing websites must eventually graduate to more expensive Lunarpages plans, it's hard to ignore the fact that many other hosts do not impose these limitations or raise their fees.
"No Guarantees" on SEO/SEM – Within Lunarpages' SEO/SEM Terms of Service, it states that Lunarpages does not promise "any specific results" from their service. Regarding SEO, this is somewhat understandable, as no host has direct control over search engines. But, for paid advertising campaigns – where the customer is paying both Lunarpages and a search engine like Google or Bing – couldn't they at least make a minor, conservative promise?
Poor Communication - Online reviews cite a lack of communication to changes that could possibly break sites, and rarely take responsibility for outages or hacks. One customer cites, "Lunarpages was once a good host, but they have become the posterboys of terrible service. Our service was compromised, we had tons of downtime, their support was never available."
Another customer says, "I used these guys for 4+ years, and don't why I didn't switch sooner. DItto to the reviews on scripts breaking, inability to keep customers notified of changed that will predictably bring their sites down, and lack of ownership for problems they create."
LunarPages Uptime & Reliability
According to WebhostingStuff, over the last 2200 days, Lunarpages has been up 99.98% of the time. A secondary source pegs the number at 99.828% uptime since December of 2005.
Lunarpages Coupon Code for 2012
Use coupon code "SITEPOINT15″ to get 15% off the Basic, Business, QuickSite, Windows, Reseller or VPS plans when you purchase for 12 months. Or use SITEPOINT15 to get 15% off a dedicated server with a 3 month contract.
Click here to save 15% on VPS Hosting
Click here to save 15% on Basic Hosting
Click here to save 15% on Dedicated servers at LunarPages
Conclusion
While some hosts take pride in the simplicity of their offerings, Lunarpages goes the route less traveled, offering a robust array of services for email, hosting, design, development and even branding and marketing. They could be a lot more than just a web host for customers who want a single point of contact for technology services. For business owners who want get technology management out of their inbox and off of their desk, Lunarpages is ideal.
If your website is for a US public school, Lunarpages is a complete no-brainer. It's 100% free for K-12 public schools in the United States.
But, if you're looking for basic, one-size-fits-all hosting, Lunarpages may not be the best home for your website. While they do have "Starter Hosting" and "Basic Hosting" packages that begin at competitive prices, product limitations might push you into the next tier of hosting, making your costs grow as your website grows. Lunarpages hasn't been polishing one single product; they've been growing dozens of them at once. You might not want to be one of their smaller, bottom-tier accounts, and you may prefer a company that focuses on doing one thing proficiently, instead of dozens of things sufficiently.
Click here to view Lunarpages latest offers & plans
Lunarpages Customer Quotes
"Always prompt and informative on issues, helping even a numbskull like myself to get a better understanding of what's going on behind the scenes. I've managed to ask some tough questions; always resolved and explained."
"They are always courtesy and very helpful in solving any problems I may have. I am now upgrading my service once again for the 3rd time… I have referred 3 different customers to you and will continue to do so."
"Customer support is top notch and their web forums are a great source of information as well as being a fun community to be a part of. This is finally a place we can call home for a long time to come."