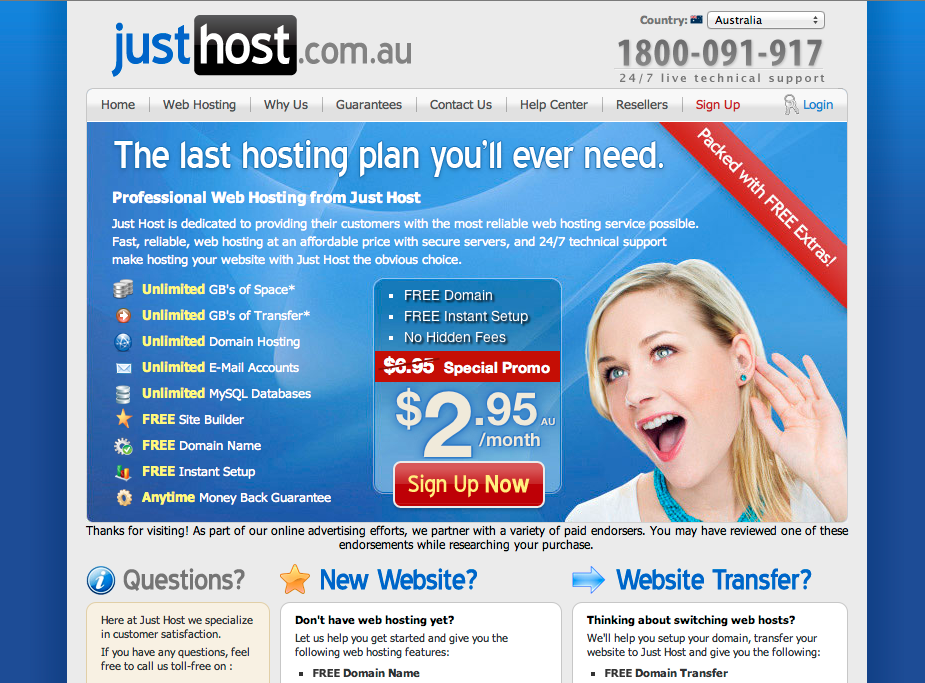 | Plans | Price Per Month |
| --- | --- |
| Professional Web Hosting | from $2.95/month |
| Features | Specifications |
| --- | --- |
| Min disk space allowed | Unlimited |
| Min Bandwidth Allowed | Unlimited |
| Addon domains | Unlimited |
| Free Domain | yes |
| Free site builder | yes |
| CGI/BIG Access | yes |
| SSI Access | yes |
| FTP Access | yes |
| HTTPS Support | yes |
Website: http://www.JustHost.com
Disclosure: We're a professional publisher and we receive compensation from the companies whose products we review. We tested and reviewed the hosting described here. We're independently owned and the opinions expressed here are our own.
JustHost is a small California-based hosting company aptly named for the simplicity and clarity of its products. Some larger hosting companies offer as many products, plans, scripts, settings, configurations, bells and whistles that they can find, leaving their customers baffled by the dizzying array of options. Other web hosts go too far in the opposite direction, offering a Spartan, overly-simplified hosting service that leaves customers wishing they had more control over their websites. JustHost has found the happy medium between the two extremes, striking a balance between simplicity and flexibility. Their customers have meaningful control over their web hosting, but they aren't overwhelmed by dozens of daunting choices.
JustHost Highlights
Like most of their rivals, JustHost offers unlimited disk space, bandwidth, email accounts and MySQL databases. They also boast 24/7 customer support and a money-back guarantee. These have become expected with any quality host, but JustHost does have quite a few unique qualities that make it stand out among its fellow companies.
Simplicity – JustHost doesn't have an endless, overwhelming list of installable addons, but they also don't leave the customer empty-handed. They offer automatic installations for only the most common, widely-used software (WordPress, Joomla, Bulletin Board, Ruby on Rails, etc.). Those customers with highly specialized needs for obscure scripts or unconventional applications can simply install them manually. This approach makes for a simple, confusion-free experience for the majority of customers, and it still allows experts with unusual needs to install their own software and build their specialized setups.
Serious Perks for Moving to JustHost – While some web hosts offer incentives to attract site owners to their hosting, few go as far as JustHost to entice customers to switch to their services. For users switching from other companies, JustHost offers a free domain transfer, a free domain registration, "Site Builder," pre-designed templates, $50 of Google Ad credit, $25 of Yahoo Ad credit, $50 of Facebook Ad credit, $50 of MySpace Ad credit and a money-back guarantee redeemable anytime. Those incentives are tempting to those who are even the slightest bit dissatisfied with their current web host.
Free Extras and Frequent Discounts – Aside from the waived transfer fees and advertising credits mentioned above, JustHost also offers free spamfiltering, custom cron jobs to let you set up automated tasks, and email auto-responders to help you efficiently manage your communication. They also offer frequent sales on their services. Don't forget to click on the "secret link" that is hidden (prominently) in the footer; it rewards observant readers with a 20% discount on a new hosting plan.
A "Help Center" Full of Articles and Videos – JustHost's "Help Center" can assist with website problems, email difficulties, and even third-party products such as WordPress, Drupal and Zencart. Whether you're a JustHost customer or not, you could benefit from their extensive knowledgebase.
JustHost Weaknesses
While JustHost is a solid option for small, low-traffic websites, it might not be ideal for popular websites, or even websites with aspirations of popularity. There is a somewhat strange disclaimer about JustHost's "unlimited" disk space and bandwidth that reserves the right to set limitations if you are "using or abusing resources beyond what would be expected of a personal or small business website." I'm not sure precisely what is "expected," but it would be quite a headache to have that as a point of contention with your web host. Having your website crash is certainly bad, but having it disabled or shut down by your web host is far worse.
JustHost also has some limitations about "Resource Usage" stated in their terms and conditions. Among other things, customers apparently cannot set up automated cron jobs to occur more often than every 15 minutes, despite it being an offered feature. They also require you to write ("include" statements within) PHP efficiently so that you don't overtax their systems.  Most notably, JustHost reserves the right to discontinue service to any customer who is taking up more than 10% of a server's resources or 10% of a CPU's processing power. That last limitation is the most concerning; a website that experiences a sudden surge of traffic could become a victim of its own success at the worst possible time.
Several customers have also had problem with being automatically renewed at higher rates, one customer notes –  "Once renewal time came, they automatically renewed me at about 2x the original rate and to top it off, a broken website. They gouged another $40 out of me when I canceled claiming "fine print." As well, several people complain about the billing department being unreachable by telephone, making it hard to cancel the account or resolve disputed charges.
JustHost Uptime and Reliability
Since July of 2008, JustHost has maintained a 99.97% uptime which is considered outstanding.
Conclusion
JustHost is true to their name; they provide dependable hosting without unnecessary frills. They offer two simple plans; regular and premium. They only offer installations of the most common software, and they support that software commendably with customer support and "help center" videos and documentation. But, they do seem to have limitations, some of which are imposed (see "unlimited" definition, 10% cutoff rule above), and some are (ambiguously) implied. A successful website could eventually "outgrow" JustHost and find that all of the perks for moving into JustHost weren't worth the effort of moving out. The majority of websites would be healthy and happy in the JustHost family, but I speculate that the most wildly successful might eventually move elsewhere.
* Special Promotion: Unlimited Hosting for $4.45/month.
JustHost Reviews
"I am very pleased with everything from JustHost. My site is much faster than it was with my other host. The server was configured correctly from the start and everything went smooth[ly] when I moved my site."
"I wish I could have different passwords for domains hosted from the same account so that other people in my club could help update that site without having access to my personal site, but other than that I'm very pleased and plan to extend my hosting time."
"JustHost have been extremely helpful in helping me set up my first website, it has been both fun and enjoyable to deal with them. Their support team are great and they really know what they are talking about."