JaguarPC Hosting Review

Tweet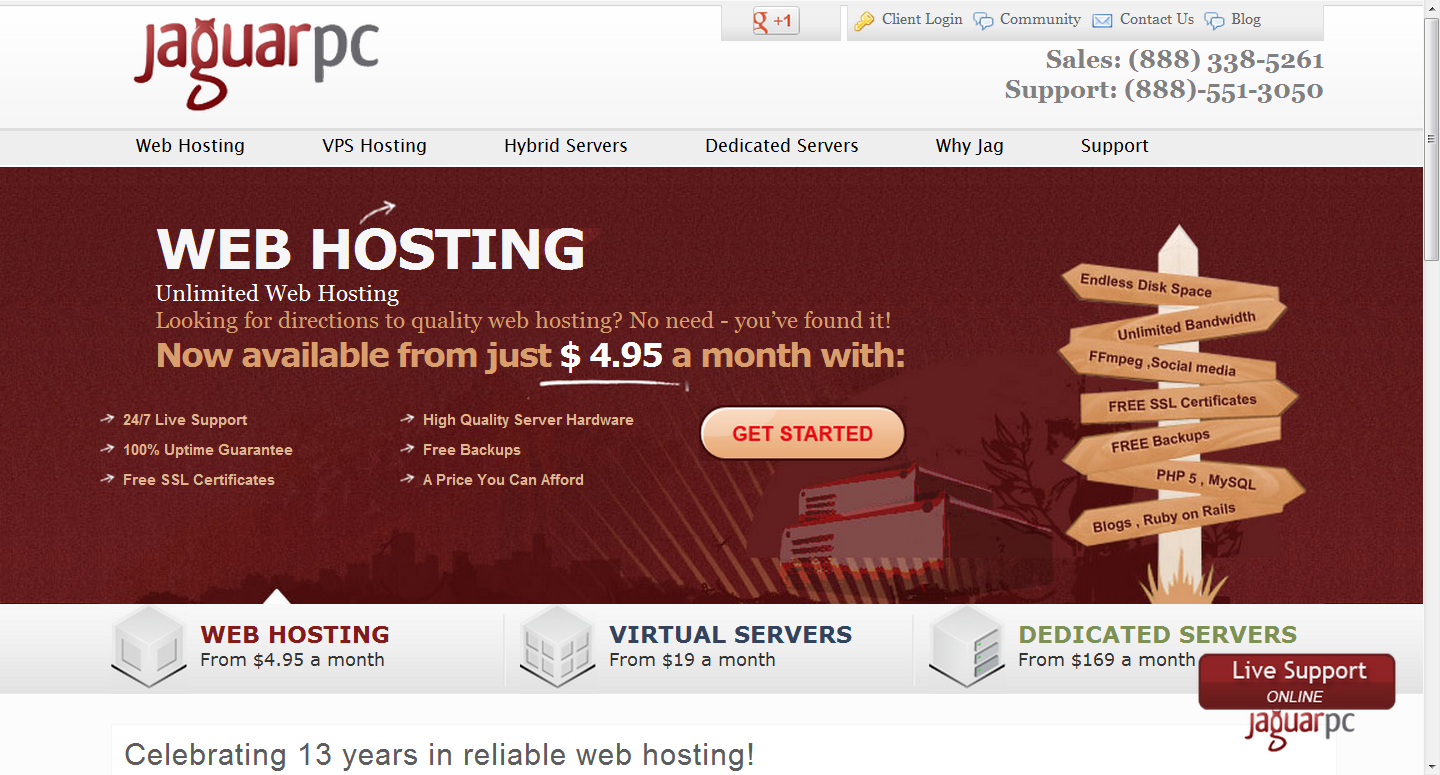 | Plans | Price Per Month |
| --- | --- |
| Web Hosting | from $4.95 a month |
| VPS Hosting | from $19.00 a month |
| Hybrid Servers | $97 per month |
| Dedicated Servers | from $169.00 a month |
| Features | Specifications |
| --- | --- |
| Min disk space allowed | Unlimited |
| Min Bandwidth Allowed | Unlimited |
| Addon domains | Unlimited |
| Free Domain | no |
| Free site builder | yes |
| CGI/BIG Access | no |
| SSI Access | yes |
| FTP Access | yes |
| HTTPS Support | no |
Website: http://jaguarpc.com/
Disclosure: We're a professional publisher and we receive compensation from the companies whose products we review. We tested and reviewed the hosting described here. We're independently owned and the opinions expressed here are our own.
JaguarPC is one of the fastest growing web hosting companies in the world, and for good reason. They offer a rare combination of affordability, stellar support, and robust features within every one of their hosting services. With a variety of hosting plans that start at less than $5 per month — all of which include daily backups, 24/7 support, and a wide array of useful software — it's not surprising that JaguarPC nearly doubles their customers every year.
JaguarPC was started over 10 years ago as a very small operation. Since their inception, they've built data centers in New Jersey, Atlanta, Dallas, Phoenix, Los Angeles, and even the United Kingdom. All of their locations have strict security, armed guards, 24-hour surveillance, and thousands of gallons of coolant and backup fuel to ensure that your services continue running through even the most adverse circumstances. Amazingly, the cost of all of these extensive security features and redundancy plans is built into their highly-competitive pricing.
JaguarPC Highlights
JaugarPC meets all of the standard benchmarks for quality web hosting: They offer unlimited disk space, unlimited bandwidth, unlimited domains, and cPanel, the most widely-used control panel in the industry. In addition, Jaguar uses Fantastico, which is a popular software library that offers hundreds of useful applications, including content management systems, shopping carts, ticket systems, and much more. Besides these somewhat standard offerings, JaguarPC stands out from other web hosts by offering some truly unique services:
Free daily backups – JaguarPC includes daily backups with even their most basic hosting. This is extremely valuable for customers who are looking for assurance that their site files and databases stay safe. Losing your data is at best a costly annoyance, and at worst it can be catastrophic. There are a lot of disaster recovery solutions available to site managers, but few of them are free, and none of them are already seamlessly integrated into your JaguarPC hosting plan. JaguarPC's free daily data backups provide security and confidence to their customers without compromising their low hosting costs.
100% uptime guarantee or ten times your money back – Many of JaguarPC's competitors offer 99% or even 99.9% uptime guarantees. Some of them will refund your money in the event of an outage. But, none of these competing web hosts can match JaguarPC's guarantee, which assures 100% uptime or ten times your money back. This guarantee clearly favors the customer, and it's also a strong indication of JaguarPC's professionalism and dependability. They could never offer such a guarantee unless outages simply didn't happen.
Free SSL security certificate access – Buying, installing and maintaining an SSL certificate is not only a nuisance for webmasters, they're also very costly. In some cases SSL certificates can cost more than the hosting itself. Thankfully, JaguarPC includes use of SSL security in even their $5 dollar plans. This can save time, money, and frustration for customers who require SSL security for their purposes.
Strong email support – JaguarPC offers an impressive amount of email features. They include unlimited aliases, unlimited email forwarding, unlimited autoresponders, and unlimited mailing lists. They also provide spamfiltering and web-based email access for those who don't use a common email client such as Outlook, Mail, or Thunderbird. While most hosts control the amount of email-based traffic, charge you extra for ad hoc email features, or bump you up into a more expensive hosting plan, JaguarPC offers a substantial set of email features at no added cost.
Affordable high-end hosting – For developers who need more than basic, affordable hosting, JaguarPC has high-end services that are just as impressive as their basic services. Jaguar's Hybrid Servers are a custom-creation that combines the best of both physical, dedicated servers and virtual private servers to offer processing power at a very competitive price. An apples-to-apples comparison of JaguarPC's Hybrid Server systems with similar offerings from MediaTemple and HostGator shows that Jaguar's hybrid technology can offer the same amounts of dedicated memory, bandwidth, and disk space at about half of the industry average price.
A la carte upgrades – Customers who have very specific technical needs can add discrete amounts of RAM, disk space, bandwidth and IP addresses using Jaguar's a la carte addons. This is a great option for those who have very specific technical requirements, and very few hosting providers are willing to tailor their services so precisely to fit your needs.
Big discounts on older servers – Jaguar also offers discounts in the form of "Bargain Bin Servers," which makes use of slightly older servers at steep discounts. Project managers or developers could make the most of tight budgets with these offers. Many professionals already have taken advantage; at the time of this review, several "Bargain Bin" categories are sold out.
JaguarPC Weaknesses
While JaguarPC offers impressive hosting at very competitive prices, there are a few notable downsides to their services. Jaguar is nearly doubling in size every year, and while that's clearly good news for any company, it's not necessarily good news for customers. If Jaguar doesn't double their support as often as they double their sales, customers might perceive that they used to be able to get some personal attention from a friendly, tech-savvy human being, and now they might just be directed to Jaguar's new library of support videos instead.
Also, it's fairly clear from the locations of their data centers that JaguarPC is ideal for US-based customers. Customers outside of the US are surely welcome, but JaguarPC's only international data center is in the United Kingdom. Along similar lines, it appears that their video libraries and chat support are all in English, so those who don't speak English well may not be able to take advantage of all of the support offerings.
Conclusion
It's apparent in every one of JaguarPC's services that they're striving to offer top-quality hosting at an unbeatable value. Their free daily backups, strong email support, hundreds of installable software packages, and 'bulletproof dependability are impressive, especially considering they all somehow fit into even the $5 per month hosting plan. The fact that they're willing offer a la carte server upgrades and steep discounts on older systems reiterates that winning and keeping  customers is part of every one of their efforts. It's no surprise that they're growing rapidly due to their customer-centric approach, but it's hard not to wonder how they'll maintain the same personal approach to customers throughout their exponential growth.
JaguarPC Customer Quotes
"I've been hosted with JaguarPC for over 4 years now. My site has grown with them, and I've used every hosting plan they offer: GigaDeal, Semi-Dedicated, and Dedicated. They are simply the best…"
"I can trust these people to deliver good service. There data center looks pretty well secured as well, which also tells me I can trust these people with my data…"
"JaguarPC has great customer service and superior value. Nobody offers the same combination of price, features, and customer service … we used to call that 'value for the money.' Jag's servers are zippy fast, and [their] downloads are spectacular…"
"I have used 3 different dedicated servers and multiple VPS and shared packages. I am a demanding customer, and Jag has always met my needs; and always with surprising speed (I am shocked they haven't kicked me out with how many support tickets I open). Just about every problem I have encountered has been caused by me, but they are still gracious enough to fix it without any hesitation. When it comes to a hosting company, customer service is what truly makes the difference…"