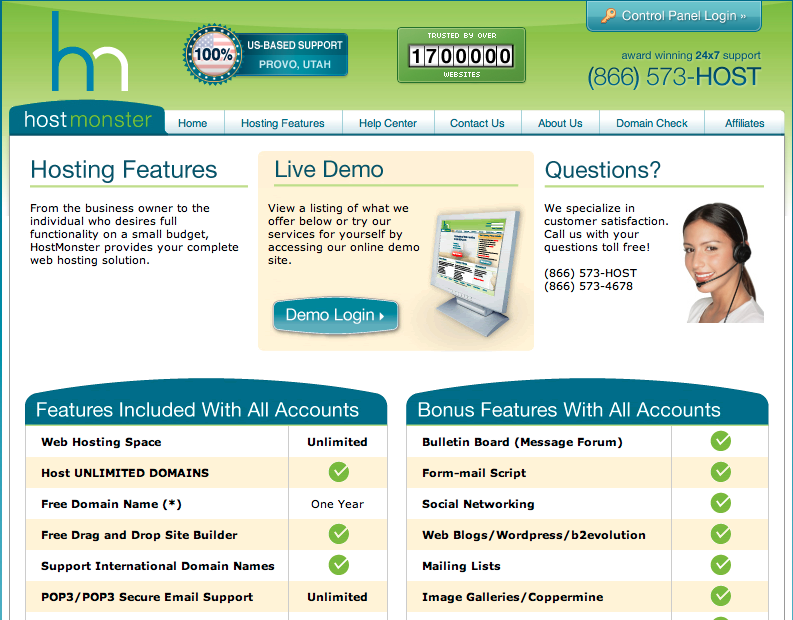 | Plans | Price Per Month |
| --- | --- |
| HostMonster Web Hosting | from $4.95/month |
| Features | Specifications |
| --- | --- |
| Min disk space allowed | Unlimited |
| Min Bandwidth Allowed | Unlimited |
| Addon domains | Unlimited |
| Free Domain | yes |
| Free site builder | yes |
| CGI/BIG Access | yes |
| SSI Access | yes |
| FTP Access | yes |
| HTTPS Support | yes |
Website: http://www.hostmonster.com
Disclosure: We're a professional publisher and we receive compensation from the companies whose products we review. We tested and reviewed the hosting described here. We're independently owned and the opinions expressed here are our own.
HostMonster is appropriately named; it's a huge hosting company. With 1.7 million websites under its care, it's one of the largest web hosting providers in the industry. HostMonster conducts all of its domestic and international business from its headquarters in Provo, Utah.
Having been around since the mid-90s, HostMonster isn't just one of the biggest hosting companies; it's also one of the oldest. The company has 15 years of experience to complement a huge pool of websites. The age and size of HostMonster isn't based on myth or fantasy; they have a winning formula and a monstrous pile of happy customers to prove it.
HostMonster Highlights
Like many top-tier web hosts, HostMonster offers unlimited disk space, bandwidth, domains and email accounts. They also use Cpanel, the world's most popular control panel. Lastly, they offer advertising credit for Google, Yahoo and Bing, which can spread the word about your new website quickly and effectively. Besides these standard features, HostMonster has a few other noteworthy perks that some hosts don't offer.
HostMonster Never Outsources – With a company this large, you might suspect that HostMonster outsources a lot of its work to other companies or subsidiaries. They never outsource anything; the promise is right on their homepage. This assures customers that they can receive quality help without getting bounced around to different vendors or snubbed entirely. It's yet another testament to the fact that HostMonster hasn't taken any shortcuts in scaling up its operation up to nearly 2 million websites.
Great for e-Commerce – HostMonster grants you a choice between several different shopping carts, and they also throw in a free generated security certificate, which saves you the effort (and the recurring cost) of obtaining one yourself. Combined with their stellar support and their other features, HostMonster ensures a smooth, secure shopping experience at your online store.
Instant, Free Tour of a Demo Account – With most web hosts, you sign up for their product without having ever truly tried their hosting. Occasionally, new customers can become very frustrated or disappointed with unintuitive interfaces or confusing controls. HostMonster remedies this by allowing full access to a dummy HostMonster account. Not only does this allow a very close look at their service, but it allows a new customer to hit the ground running with much less of a learning curve. It may not be a free trial, but it's still a detailed look under the hood of HostMonster.
Installable Apps Via SimpleScripts – HostMonster offers dozens of installable scripts, including common content management systems, shopping carts, email clients and bulletin board software. If you're basing your website on one of these popular technologies, you can get your project on its feet in a surprisingly short amount of time. All installations are complete in just a few clicks.
Project Management Software – HostMonster offers an installation of Redmine (a Ruby-on-Rails-based project management application) for every customer. With this valuable add-on, you could make an internal project management area on a subdomain like projects.yourwebsite.com, and use your hosting not only for your public-facing website, but also your group's internal communication and planning. Surprisingly, HostMonster is one of few hosts that have thought of this valuable addition to their offerings.
HostMonster Weaknesses
Long-term contracts  - The $3.95/month plan is only available if you purchase for 2 years. The 12-month plan is $4.95/month, and there is no month-to-month option.
Aggressive Upsells – When you're completing the checkout, you'll find that SiteLock Domain Security and Site Backup Pro are both automatically added to your plan at $12.95/year. You have to be careful to uncheck both, or you'll be charged automatically.
Other - While there's nothing overtly "weak" about HostMonster's services, they don't offer anything truly exclusive and unique. Their prices are average, their hosting capabilities are standard, and their features are on par with the average web host. Perhaps the downside to being such a massive company is that you lack the agility to take advantage of a nascent technology or to come out with a never-before-seen feature. HostMonster's biggest weakness may be that they don't have an identifiable strong suit, and that means that their best selling point is simply the fact that they have a lot of customers. I suppose the size of their company speaks to their reliability, but it seems like all of the other host have something special to bring to the table.
HostMonster did have a difficult year in 2010, with many customers reporting unresponsive tech support and website slowness. The company has made moves to address these concerns, yet there are still some negative experiences about them posted around the Web:
"I thought the troubles of 2010 were gone forever until a started seeing emails stating that my websites were down but had recovered. Then I noticed that the sites themselves were loading slowly – much more slower than the other sites"
"I host multiple sites for clients and myself. It is important to me to make sure I use a hosting company that can address any issues I may have regarding the server. I have called at 4pm, 1am, and 6am for tech support and each time I get a friendly staff member who can fix my issues quickly."
"I would take extra care when reading 'unlimited' in relation to databases and their tables. This information is heavily qualified by the 'fine print' HM says this "…MySQL usage is over 1,000 tables and/or 3 GB on a single account or 1,000 tables and/or 2 GB on a single database."
HostMonster Uptime and Reliability
HostMonster is very reliable, since January 2008 they've maintained a 99.872% uptime. Another source that's been monitoring their servers going back to April of 2006 said its 99.99%. However, despite these complaints, some customers report about frequent outages on servers that are hosting their own websites.
As an example, in November, 4 outages were recorded totalling 1 hour and 2 minutes.  October was much better with only 15 minutes of downtime, and 0 outages were recorded over 30 days in September after checking the availability of the website 2700+ times.
HostMonster vs. BlueHost
Both hosting companies are owned by the same individual, Matt Heaton. Both companies offer very similar feature sets, with only the smallest of differences.
Conclusion
HostMonster offers plain "vanilla" hosting to millions of customers. They charge a fair price, offer the standard features and have a justly earned a solid reputation. They're big and boring, offering everything you need but nothing that excites, surprises or impresses. "Boring" could a very good thing when it comes to hosting. Perhaps the best kind of hosting involves no surprises – good or bad.
If you're looking for a company that offers solid hosting with no frills, HostMonster should be at the top of your list. They've got millions of customers, all of whom are happy with HostMonster's quintessentially "standard" service. But, if you're looking for a little added bonus in the form of exceptionally low prices, lots of free incentives, serious scalability, an eco-friendly philosophy or anything else out of the ordinary, I'd consider other hosts that do something more than "business as usual."
Click here to view Hostmonster's latest offers
HostMonster Customer Quotes
"Hostmonster is great. Tech Support is excellent, don't have to wait more than 5 minutes, and the Techs don't mind fielding questions outside the realm of Hostmonster. I like the $50 AdWords and $25 Yahoo Credits. Affiliate program is excellent also, I have refered people and gotten $65 after 3 months hosted."
"HostMonster has been my web hosting provider for 5 months and so far I've had a good time. They have helpful tutorials and are easy to reach; this is what I consider the most important thing in a host."
"I think HostMonster gives the best value for your money when it comes to web hosting. My website is always up and so far I've only had to contact support once and it was answered really fast."

See also: Hostgator vs Hostmonster & Hostmonster vs Bluehost