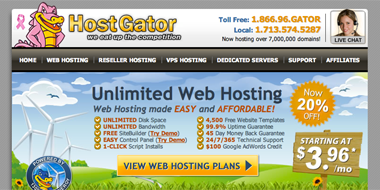 | Plans | Price Per Month |
| --- | --- |
| Unlimited Web Hosting | from $3.96/month |
| Reseller Hosting | $19.96/month |
| VPS Hosting | $15.96/month |
| Dedicated Servers | $139 for 1st month |
| Features | Specifications |
| --- | --- |
| Min disk space allowed | Unlimited |
| Min Bandwidth Allowed | Unlimited |
| Addon domains | Unlimited |
| Free Domain | no |
| Free site builder | yes |
| CGI/BIG Access | yes |
| SSI Access | no |
| FTP Access | yes |
| HTTPS Support | yes |
Website: http://www.hostgator.com
Disclosure: We're a professional publisher and we receive compensation from the companies whose products we review. We tested and reviewed the hosting described here. We're independently owned and the opinions expressed here are our own.
Founded by Brent Oxley and based out of Houston, Texas, the company hosts over 5 million domains and serves out about 1% of Internet traffic worldwide. HostGator boasts a stellar record of customer satisfaction, and they provide technical support that goes above and beyond that of their competitors. They have 750 employees, a 99.9% uptime guarantee and a 45-day money-back guarantee, so you can count on solid support and reliable hosting.
Most hosting companies pick a certain kind of customer and cater to that single customer type: High-end hosts are happy with a few customers buying very expensive, very powerful products. Conversely, low-end providers offer a basic, affordable product to a gigantic customer base. HostGator is one of the few companies that has the best of both worlds; many products and many customers. So, whether your project is a small six-page website or the next Facebook, HostGator has a product that is ideal for your needs. And, because every website plans to grow, you can count on the ability to upgrade your hosting capabilities to a stronger service without the painful, cumbersome task of migrating your website to a new hosting company.
HostGator Highlights
Like most legitimate hosting companies, HostGator offers unlimited disk space and unlimited bandwidth with all of their hosting services. They also offer 24-hour support, automatic weekly data backups and a support portal with hundreds of helpful articles and videos. Besides these somewhat-typical features, HostGator has plenty of additional offerings that few competitors can match.
A Huge Range of Hosting Products - While most hosting companies specialize in cheap hosting or powerful hosting, HostGator covers both ends of the spectrum and everything in between. Their hosting products range from simple, affordable "vanilla" hosting to services so powerful that they have their own dedicated servers. For their strongest products, they even use multiple bandwidth providers (AT&T, Comcast, etc.), so that even a huge systematic failure by a bandwidth company won't bring your website down.
4,500 Free Website Templates - While some hosting providers come with a basic "website builder," they still rely on the customer to make even the smallest aesthetic choices for their website. This usually results in an ugly, amateurish design that pleases neither the visitor nor the owner. We're not all students of design, and not all of us can hire a designer to create a sharp "look and feel" for our website. HostGator helps a great deal with this common problem by offering almost five thousand templates covering many different categories. While they're not all suitable for any given website, there's bound to be at least one that fits the bill fairly well.
52 Free, Automated Script Installations - Most companies offer installations of common content management systems such as Drupal, WordPress and Joomla, but HostGator offers 52 different installations, all of which are free and deployed in just a few clicks of a mouse. Offering the automatic installation (and support) of these dozens of applications is no easy task, and few web hosts have gone as far as HostGator has in supporting even the most uncommon software.
Serious Help with the Move to HostGator - HostGator knows how tedious and time-consuming it can be to move your website files and databases from one host to another. To remedy this pain-point for prospective customers, they offer a free domain transfer, free file transfers, free database transfers and free script transfers from your old host to HostGator. While they won't take over the task entirely, they do offer some serious hand-holding, as well as some waived transfer fees.
HostGator Downsides
There are few downsides to choosing HostGator, but there are a few minor difficulties that a customer could encounter. Some customers might be baffled by the huge array of options before they even select a plan. Others might be confused, not impressed, by the 52 different script installations and dedicated server setups. There is a point where too many choices can be bad for a customer. This point is different for everyone, but less-than-savvy customers looking for a basic, run-of-the-mill hosting package might have trouble finding what they need among the plethora of options. Although HostGator's impressive array of choices allow it to handle any kind of website, most websites never have a need – or even an inclination – to take advantage of all 52 scripts or all of the other, similarly robust choices.
One other point to be aware of is that like most shared hosting companies, Hostgator does reserve the right to throttle your website, or ask you to upgrade your plan if you start taking up too many server resources.
Hostgator Uptime & Reliability
Since September 2005 (2200+ days), Hostgator has been accessible 99.99% of the time. A second, independent source that's been monitoring Hostgator since December 2005 pegs the uptime number at 99.907%.
| | | | | | | | |
| --- | --- | --- | --- | --- | --- | --- | --- |
| 2011 | November | 30 | 6900 | 2 | 0 hrs, 12 mins, 31 secs | 99.971% | view |
| 2011 | October | 31 | 7130 | 3 | 0 hrs, 18 mins, 46 secs | 99.958% | view |
| 2011 | September | 30 | 6900 | 0 | 0 hrs, 0 mins, 0 secs | 100.000% | view |
Hostgator Coupon Code for 2012
Use coupon code "SITEPOINT25″ when you open an account to get 25% off. Click here to start.
Hostgator WordPress Web Hosting
Hostgator includes QuickInstall, a simple 1-click WordPress installer with automatic updates to ensure your WordPress installation is always updated with the latest version, ensuring you access to the latest features and keeping your site secure, since WordPress is notorious for constant security bugs.
Click here to watch the Hostgator WordPress QuickInstall Tutorial
Conclusion
HostGator has a well-deserved reputation of excellent value, support and service. If you're looking for a hosting package that is tailor-made to fit the needs of your website, you'll likely find what you need at HostGator. But, if you don't know exactly what you need, or don't want to get involved in choices like which scripts to install, which dedicated server to buy or which of the 4,500 templates to use, then you might want to consider other web hosts who offer a one-size-fits-all product, eliminating the need to choose.
HostGator Customer Quotes
"I really like Hostgator and, it is the only web hosting company I have ever been with. I don't see the point to giving anyone else a try because they have always helped me out a lot."
"I love the support from HostGator and the speed of the shared servers that they have."
"I have a VPS with Hostgator and I am very satisfied so far. Provisioning was fast once I ordered."
"Cpanel and one-click install of WordPress via Fantastico is also great if you are not that technically-oriented. It makes stuff super easy!"

See also: Hostgator vs Hostmonster Review and Hostgator vs Bluehost