GreenGeeks Hosting Review

Tweet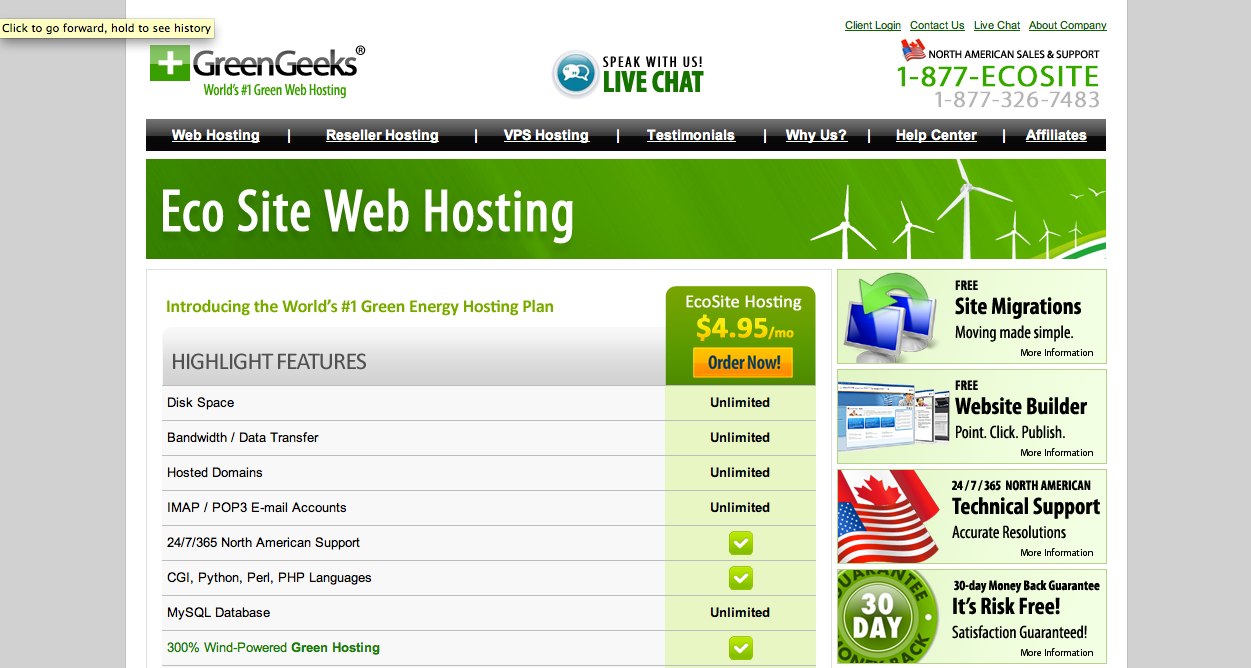 | Plans | Price Per Month |
| --- | --- |
| Basic Hosting | from $4.95/month |
| Sprout Reseller Hosting | $24.95/month |
| Tree Reseller Hosting | $59.95/month |
| VPS 768MB Hosting | $49.95/month |
| VPS 2048MB Hosting | $99.95/month |
| Features | Specifications |
| --- | --- |
| Min disk space allowed | Unlimited |
| Min Bandwidth Allowed | Unlimited |
| Addon domains | Unlimited |
| Free Domain | yes |
| Free site builder | yes |
| CGI/BIG Access | yes |
| SSI Access | yes |
| FTP Access | yes |
| HTTPS Support | yes |
Website: http://www.GreenGeeks.com
Disclosure: We're a professional publisher and we receive compensation from the companies whose products we review. We tested and reviewed the hosting described here. We're independently owned and the opinions expressed here are our own.
GreenGeeks is arguably the greenest hosting you can buy. They have received literally dozens of awards, many of which were specifically for their eco-friendly approach to an industry that is well-known to have a high environmental impact. GreenGeeks boasts that their hosting is 300% green, meaning that for every unit of energy that they pull from the California power grid, they purchase triple the amount in wind energy credits. They also sponsor groups and events like the American Lung Association and Earth Day.
With all of these proceeds going to wind energy credits and environmental sponsorships, a customer might think that this ultra-green hosting would come at a hefty cost. But, GreenGeek's monthly premiums (about $5 to $7 per month) are surprisingly competitive, suggesting that other hosting companies could reduce their own carbon footprint without compromising their budget.
GreekGeeks Highlights
Like all leading web hosts, GreenGeeks offers unlimited file space, bandwidth, domains, databases and email accounts. They also include Cpanel, the most popular control panel worldwide, as well as prolific content management platforms like Drupal, WordPress and Joomla. Combined with an installable script library from Fantastico, they've met the standard of modern web hosting. After you take all of these expected features into account, there are still quite a few areas in which GreenGeeks goes above and beyond the usual.
The "Greenest" Hosting By Far – GreenGeeks, aptly named, is the king of environmentally-friendly hosting. Some hosts make no effort to reduce their impact, others make sure to offset theirs, but GreenGeeks' "300% green" promise means that they're committed to offsetting their impact three-fold. Even their Intel "energy efficient" Xeon processors are green. Their many awards prove that they're not just trying to be green; they're living proof that sustainable, impact-free hosting is possible.
Serious Help with Site Migration – If the promise of eco-friendliness isn't enough to entice customers, GreenGeeks also takes the lead on migrating your website's files, databases, scripts and even email accounts into their systems. They promise a completion within 48 hours, and regular updates during the process.
Dozens of Awards, Not Just For Being "Green" – While GreenGeeks has won quite a few awards specifically for considering the environment, they've also won many by simply providing top-quality web hosting. Awards like "Best Support – 2010″ and "Best Blog Hosting – 2010″ have nothing to do with the environment, proving that GreenGeeks doesn't sacrifice the quality of their hosting for the sake of their green commitments.
The Strengths of a Small Company – While there are some disadvantages to working with a small company, GreenGeeks is probably the best of the smallest. Customers can count on personal contacts on a first-name basis, as well as fast, decisive help that isn't bogged down by bureaucracy or corporate constraints. If you'd rather have a host that remembers your prior conversations instead of an aggravating, automated phone tree, GreenGeeks is sure to please.
GreenGeeks Weaknesses
According to the information on their 2010 Earth Day commitment, "GreenGeeks.com & GreenResellerWebHosting.com [their reseller program] combined get more than 50,000 visitors each month…" Although that might sound like a lot of web traffic, that's far less than most hosting companies. In fact, there are thousands of websites that get that amount of monthly traffic individually. While it's certainly possible that GreenGeeks has grown significantly since 2010, it's likely that they're still tiny compared to the majority of competing web hosts. This isn't necessarily a problem, but it does suggest that GreenGeeks doesn't host many (or any) truly high-traffic websites. So if you have a popular (or planned-to-be-popular) website, you might instantly become their biggest client. While that may win you some extra care and attention, some might want to trade those perks in for the experience and expertise of a host that has a few high-traffic websites already under their care.
GreenGeeks Uptime and Reliability
According to WebhostingStuff, which has monitored GreenGeeks server uptime and reliability, over the last 1000 days their services have been up 99.98% of the time which is considered excellent.
Conclusion
While many hosts claim that their service is special and unique, GreenGeeks is one of the few companies to offer truly specialized hosting. They're not just another "vanilla" hosting company offering the same exact product at a price within a few pennies of their competition. Instead, they offer an environmentally responsible hosting option at a surprisingly good value. If the nature (no pun intended) of your web content is "green," then it would go a long way to show your visitors (with a "green-powered" site badge) that you practice what you preach and chose an extraordinarily eco-friendly host.
But, there is a price to occupying such a specialized niche; there are more than a few clues indicating that GreenGeeks is a very small hosting company. There's nothing fundamentally wrong with that, but be aware that choosing GreenGeeks for your high-traffic website could make you a big fish in a small pond with very little flexibility and very few options. If you have plans on growing a massive website or employing rarely-used scripts or programming languages, you may want to consider a larger host with a wide array of products.
GreenGeeks Coupon  Codes and Promo Codes for 2012
While not rock-bottom priced, GreenGeeks provides peace of mind for your conciousness for a very affordable price. As a free bonus to SitePoint readers, enjoy a $30 discount off an annual plan, use this coupon code: SITEPOINT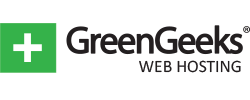 * Order GreenGeeks Webhosting Now for $4.95/month and get free website migration and a free domain name for life ($10/year value)
GreenGeeks Customer Reviews
"Knowledgeable staff, great customer service and timely responses to questions."
"I moved my website the moment I heard about GreenGeeks hosting and recommend it to everyone ever since. I believe, what can be green, should be green now – no great reason to delay."
"I run a small non profit organization, and we don't have a technical expert to help us, which is why I valued the support I got from the GG team."