FatCow Hosting Review

Tweet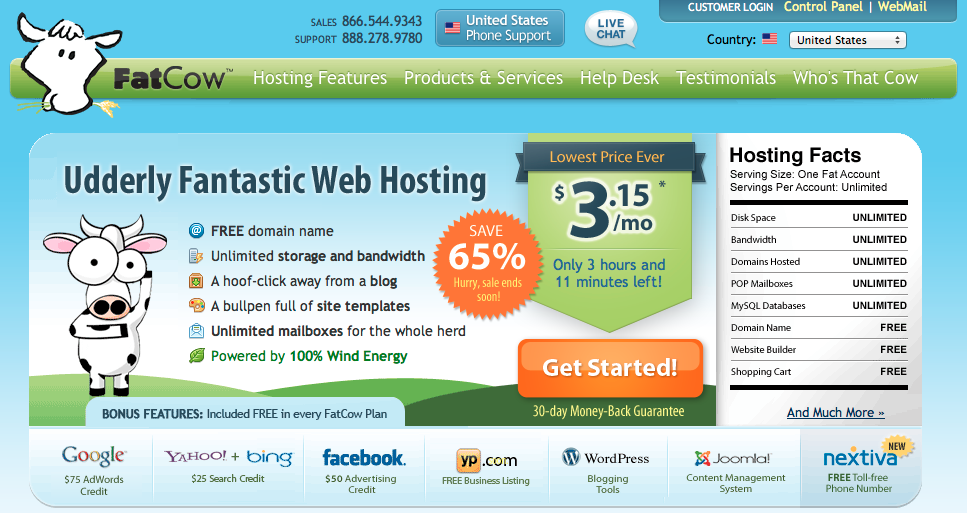 | Plans | Price Per Month |
| --- | --- |
| Fatcow Plan | from $1.25/month |
| Features | Specifications |
| --- | --- |
| Min disk space allowed | Unlimited |
| Min Bandwidth Allowed | Unlimited |
| Addon domains | |
| Free Domain | yes |
| Free site builder | yes |
| CGI/BIG Access | yes |
| SSI Access | yes |
| FTP Access | yes |
| HTTPS Support | yes |
Website: http://www.fatcow.com
Disclosure: We're a professional publisher and we receive compensation from the companies whose products we review. We tested and reviewed the hosting described here. We're independently owned and the opinions expressed here are our own.
FatCow is a popular US-based web hosting provider that offers an impressive array of features within a very small price tag. FatCow opened for business over ten years ago, and they've established a record of good service and won numerous awards during the past decade. Besides web hosting hosting, FatCow also provides search engine optimization, eCommerce technology, email marketing, website development, and many other helpful services.
FatCow's hosting is backed by a guarantee (aptly named the "Heifercratic Oath") that promises reliable service and fast support. This pledge allows new customers to sign up with confidence; if FatCow falls short of their pledge for any reason, they'll credit you with a full month of free hosting.
FatCow Highlights
Like many web hosts, FatCow offers loads of bandwidth, disk space, unlimited domains, unlimited email accounts, unlimited databases, and a wide variety of installable applications such as Drupal, WordPress, and Joomla. Besides these somewhat standard offerings, FatCow has some unique features that very few competitors can claim.
Shared SSL Certificates, Shopping Cart Integration – Quite a few hosting customers have a need to set up secure credit card processing, and unlike other hosts, FatCow offers a free, reliable solution at no extra charge. Buying your own SSL certificate would effectively double your annual hosting costs, and shopping cart software and merchant accounts can add even more to your expenses. FatCow's decision to include eCommerce support within their standard price tag echoes their efforts to offer better value than any other host.
Ultra-Basic "MiniMoo" Hosting At An Appallingly Low Price – FatCow's "MiniMoo" package is a clever product that offers extremely minimal services at an astoundingly low price. (Many hosts like to boast about how low their prices are; "MiniMoo" has a lower annual price than any hosting package I've ever seen.) The MiniMoo plan is ideal for those who are seeking a very minimal web presence and don't want to pay for a full-blown hosting package. The service includes one email account (with autoresponders) a "Coming Soon" splash page for your domain, and full support via phone and email. Not impressed yet? It's $5 per year. Now you have no excuse whatsoever for not having that domain of yours up and running.
Free Nextiva Toll-Free Phone Number – A free toll-free phone number is a very useful (and rare) addition to FatCow's features. Customer no longer have to even think about IP phone systems, expensive deskphones, or monthly phone bills. FatCow provides a phone number and 100 minutes per month without burdening any businesses with extra costs. This is once again a well-designed effort to provide the best possible value to FatCow customers.
Low Annual Pricing – The vast majority of web hosts charge a monthly fee, and their fees can add up to significant sums at the end of the year. FatCow offers annual plans – including multi-year annual plans – that come with big savings. If you sign up for a 3-year commitment, the discounts get even deeper. Offering long-term plans (with large discounts) is a gesture that rewards customers who buy their hosting in bulk with an even better value.
International Support – FatCow offers phone and email support for the US, the UK, Canada, Europe, and Australia. So, if you live in any English-speaking part of the world (and you can speak English yourself – you must be able to if you're reading this review), FatCow is a great fit for your needs. Virtual offices and international businesses would benefit greatly from FatCows broad support coverage.
100% Wind Powered – In the spirit of the same animal-friendliness that graces the FatCow brand, FatCow's offices and data centers are powered entirely by wind energy. I'm sure the cows appreciate that, and customers will as well. In an industry that is often very eco-unfriendly, it's a noble commitment to maintain "green" hosting. Surprisingly, this "green" promise doesn't seem to affect the price of FatCow's services.
Extensive Knowledgebase, Helpful User Guides – New users or web neophytes can rely on a large, organized library of resources and guides to help them with common problems and tasks. Combined with FatCow's responsive support, it would be very hard to get frustrated with your hosting, regardless of your computer skills (or lack thereof).
FatCow Weaknesses
There are very few weaknesses to FatCow's hosting to speak of. They have extremely competitive services for small hosting needs, and their "MiniMoo" hosting plan is absolutely unbeatable for those who just want a specialized email address and a splash page. Their services are an excellent fit for 99% of customers.
But, if you do have an extremely high-traffic website (think millions of hits per day) or plans to launch a very popular project (don't we all?), you might want to consider a host that offers dedicated servers or even multiple servers. Obviously, the costs for these services would be exponentially larger than FatCow's low fees, but if you truly need colossal hosting power for a huge project, you may want to look elsewhere. You also may want to raise your credit card limit, because that high-end hosting is going to cost you a bundle.
Conclusion
FatCow commitment to offering excellent value makes it extremely hard to beat as a hosting option. Discounts for long-term commitments, included eCommerce tools, free phone numbers, and clever micro-plans like "MiniMoo" are all strong and successful efforts to prove their worth to prospective customers. The promise of free hosting as compensation for any hangups adds even more appeal. And, having a sense of humor (as illustrated by their ever-present cow theme) never hurts. There's a reason that FatCow's been around for ten years and has spanned several continents: they're reliably hosts at a good price.
FatCow Customer Quotes
"Their Control Panel is almost as easy and intuitive to use as my Mac's! The two times I've needed tech support, they responded immediately, professionally and courteously. By the way, when I needed them, it was my own errors, and not FatCow's."
"Just wanted to say how pleased I am with your service. The difference is night and day compared to my last provider. I have four times the amount of space, ninety seven more email boxes, faster load times, no down time and all for less than what I was paying before."
"When I first signed up, I thought the price was reasonable for a bare-bones service; every time you folks add another little utility, I almost feel guilty."
This review has been made possible by the support of FatCow. In cooperation with FatCow and independently written by SitePoint, we strive to work together to develop the content that's most useful and relevant to you.